z

CARPEDIEM has come to Okinawa!

We have the best environment for Jiu-Jitsu, right in front of Araha Beach.
Jiu-Jitsu is a club activity for adults! Come and join us and make new friends and a new life for yourself!
Free trial is available now!


z

We welcome you with clean and excellent facilities.

We have wrinkle-resistant mats, separate showers and toilets for men and women! Experience a clean and cozy gym!

z

Kids Jiu-Jitsu Class

Kids Jiu-Jitsu classes for over 4 years old will be held 4 times a week! In addition to Jiu-Jitsu, the program also includes gymnastics and play, so your child will never get bored!

z

Learn authentic Pilates!

Authentic Pilates and dance class taught by trainer ELLENI, who has experience as an artist in Tokyo!
Let's start a new life with a stronger body and better performance through the world's most popular sport, Jiu-Jitsu!
Brazilian Jiu-Jitsu is a safe and fun martial art for children and adults. It is highly regarded around the world for its high workout effect and safety with low risk of injury, and is very popular among international celebrities.
It is also used as a welfare program by Google.
And it is attracting attention in Japan as many famous celebrities have started practicing Jiu-Jitsu.
At CARPEDIEM Okinawa, we have the best facilities and the best instructors to support you.
It is also expected to be highly effective in improving the athletic ability and etiquette of your child. Why don't you try Brazilian Jiu-Jitsu, which is safe and effective even for beginners?
What makes CARPEDIEM Okinawa different from other jiu-jitsu dojos?
POINT.
01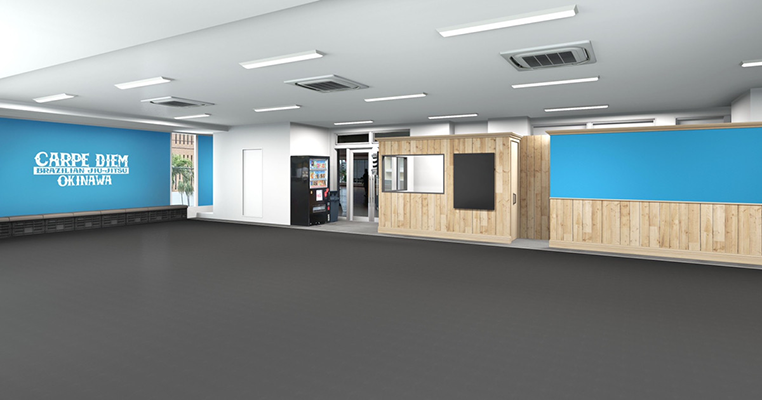 We have the best environment and facility
We have opened one of the largest and having the best environment gyms in Okinawa, with a floor space of over 2130 square feet, in front of Araha Beach. The mats are about twice as large as those used in most martial arts gyms, making it possible to conduct Jiu-Jitsu and kickboxing classes at the same time without stress. Weight training equipment is available free of charge to all members. Separate men's and women's restrooms, changing rooms, and shower facilities are available. There are 8 covered parking lots. We provide excellent experience in fitness at a reasonable price.
POINT.
02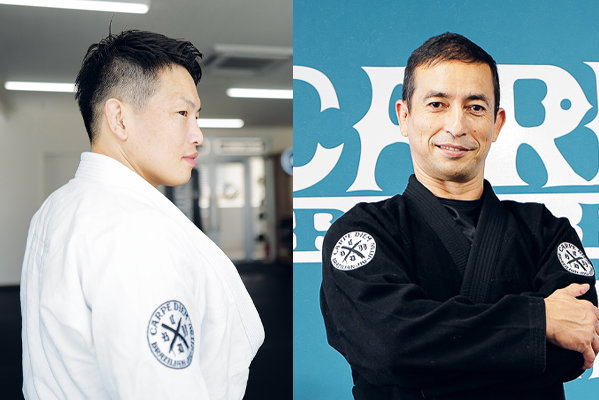 About CARPEDIEM
CARPEDIEM is a Brazilian Jiu-Jitsu Dojo with its headquarters in Tokyo, Japan, and many branches in Japan and overseas, such as London, Singapore. Calpediem Okinawa is the first branch in Okinawa, located in Chatan.
The main instructor is Emerson Azuma, a winner of many Jiu-Jitsu tournaments. You can learn the techniques and know-how of the top of Jiu-Jitsu in a safe and secure environment.
POINT.
03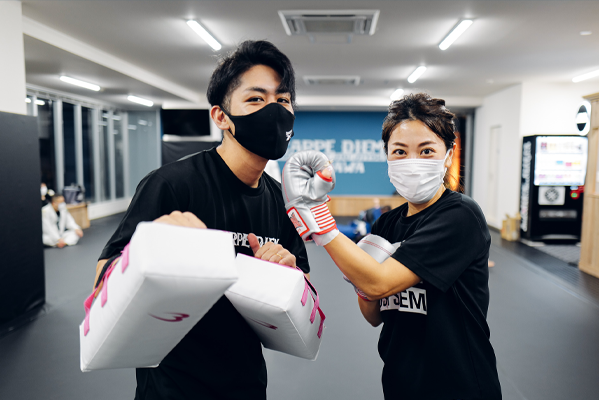 Kickboxing & Fitness
CARPEDIEM Okinawa offers various classes in Kickboxing and Pilates as well as Jiu-Jitsu. We offer more than 10 women's classes a week, so beginners can enjoy their classes.
We have a partnership with a kickboxing gym to provide instruction from professional athletes. Kids' classes are also available, as well as general classes for men.
POINT.
04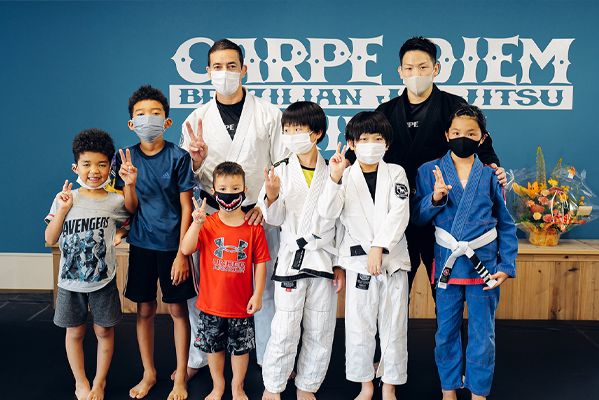 Kids Jiu-Jitsu class 3 times a week!
Brazilian Jiu-Jitsu is a great way for children to improve their exercise capability and learn etiquette.
Kids Jiu-Jitsu classes are provided 3 times a week during the evening and Saturday mornings, so students can attend any time of the week that is convenient for them. A variety of games are provided for the children to enjoy and develop their skills.
POINT.
05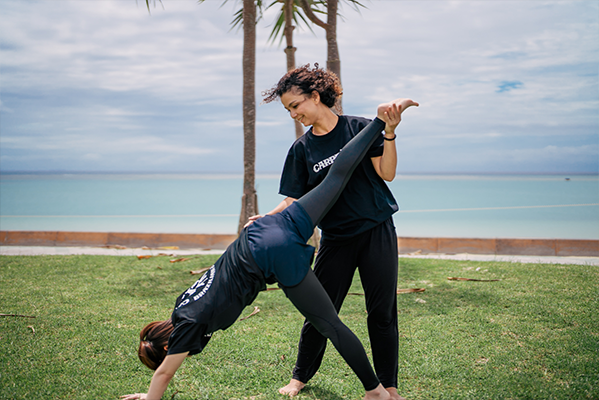 A Pilates-inspired program that helps you look and feel great without any diet restrictions!
During the daytime hours when we don't have Jiu-Jitsu classes, you can take an authentic Pilates class with a professional trainer. We offer some kinds of programs from simple programs for beginners to personal lessons for advanced users.
By correcting bone structure, pelvis distortion and posture, you can improve your style without food restriction!
POINT.
06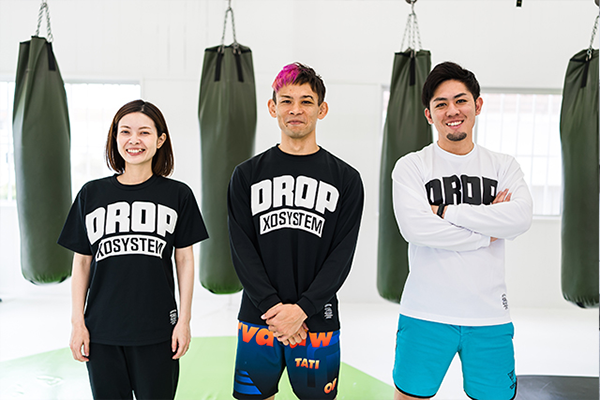 We take all possible measures to prevent infections and keeping clean for our members.
As a countermeasure against infectious diseases, the staff wear masks, ventilate frequently, wash with disinfectants, and clean the gym. We will do our best to keep the gym clean that will change the bad image of martial arts gyms as being dirty and smelly.
FAQ
Is it okay if I have no experience?

Of course, it's no problem! Our instructors will carefully guide you from the basics, so please feel free to join us.

I am high school student. Can I join the class?

Yes. We offer student price that is cheaper than general members.

I'm belong in another Jiu-Jitsu dojo. Do you accept that I take a lesson in your dojo?

Yes, we do. Please contact us.

I am a junior high school student. Can I join into the adult class?

There are individual differences in physical growth and skill level, so the instructor will decide.

Do you offer a family discount?

Yes, we do. Please ask stuff.

Can I wear my Dogi(uniform) if I have one?

Yes, it's fine!

Is it okay to join late or leave early?

There is no problem if you tell the staff.
Can I practice Jiu-jitsu every day?

Yes, we have classes every morning and afternoon so that you can join. Please check the schedule for details.

I am currently attending another Jiu-Jitsu dojo. Is it possible to attend both gym? Is the transfer, okay?

There is no problem with the permission from the dojo you are currently attending. Transfer is welcome.

Please tell me the target age for kids.

Jiu-Jitsu courses are from 4 years old to junior high school students, and kickboxing is from elementary school students to junior high school students.

Do you have grappling class?

There are no grappling class, but our instructors have MMA experience and can teach in a private lesson.

Is there a parking lot?

There is a covered parking lot for 8 cars on the 1st floor of the building.

Do I have to participate in the tournament?

You don't have to do it. Most people enjoy Jiu-Jitsu as exercise, so there is no need to force yourself into the tournament.

What do I need to prepare for Jiu-Jitsu class?

Dogi(uniform), inner rush guard, and T-shirt are required. There are some rental towels and dogi, so please ask to the stuff.
ACCESS MAP
2F 2-14-4 Chatan, Chatan-cho, Nakagami-gun, Okinawa, Japan
GoogleMap