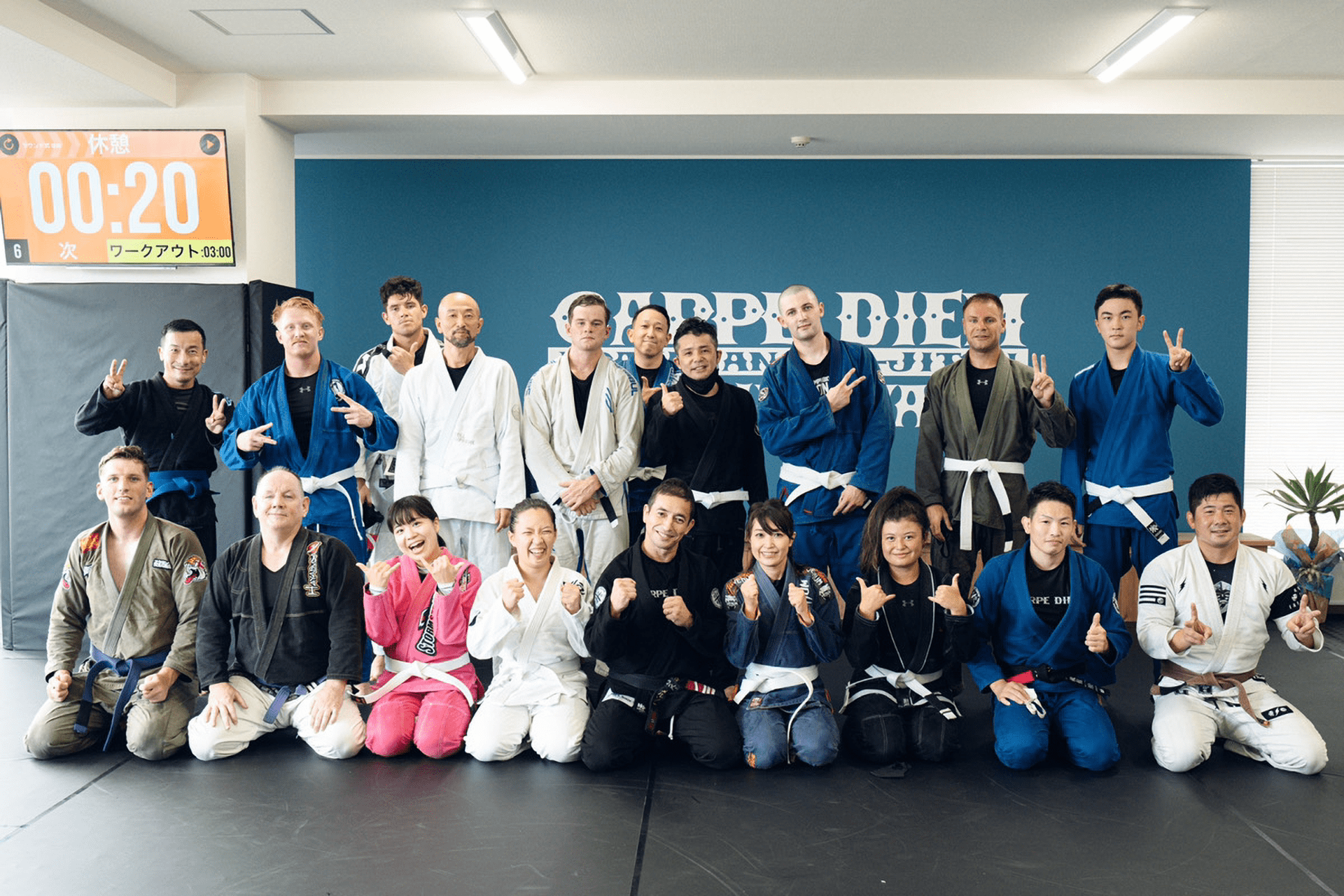 About CARPEDIEM Okinawa
Would you like to get your ideal body in a stylish gym?
You want to have a beautiful body, but you don't want to work out too hard. You want to have a supple body with only moderate muscle tone. You may think martial arts training is too dangerous. You don't want to go to a gym that smells like sweat. Then why don't you come to CARPEDIEM Okinawa?
CARPEDIEM Okinawa is a stylish jiu-jitsu gym that just opened in the summer of 2021. The impressive blue space and experienced instructors are well known, and the number of fitness-oriented members is increasing rapidly. Enjoy jujitsu, kickboxing, and Pilates with your friends to make a beautiful body.
The world-famous Jiu-Jitsu gym "CARPEDIEM"
Brazilian Jiu-Jitsu which has a high excising effect and safety

CARPEDIEM Okinawa is a Bruch of CARPEDIEM BRAZILIAN JIU-JITSU dojos and there is a headquarter in Aoyama, Tokyo.
Jiu-jitsu is a martial art that originated in Japan, developed in Brazil, and spread all over the world. Although it is a martial art, hitting and kicking are prohibited. The technique is to use all body, so it can be enjoyed safety everyone from adults to children. It's highly regarded for higher excising effect and safety of low-risk injury so that is trending from celebrities. It is also known that Google has adopted Brazilian Jiu-jitsu as employee welfare program.

There are many famous fighters who were practice at CARPEDIEM

Among Brazilian Jiu-Jitsu gyms, CARPEDIEM is one of the most famous gyms. Many famous fighters such as Masanori Iwasaki, Tomoshige Sera, and Tomoyuki Hashimoto are members of CARPEDIEM and instructors.
Also, you can take safety and detailed Jiu-Jitsu lessons from a blackbelt instructor. That's the reason why CARPEDIEM is popular.

There are over 20 branches in Japan and overseas.

CARPEDIEM has more than 20 brunches in Japan and overseas such as Mita, Hiroo, Jiyugaoka, Kamakura, Gifu, Hyogo, Fukuoka, Nagasaki, London and Singapore. In the summer of 2021, CARPEDIEM Okinawa has started as one of them. We respect the policy that the CARPEDIEM Group has developed such as a clean gym, friendly and internationality atmosphere.
We made a wonderful gym that everyone in Okinawa can enjoy practicing Brazilian Jiu-Jitsu.
Facility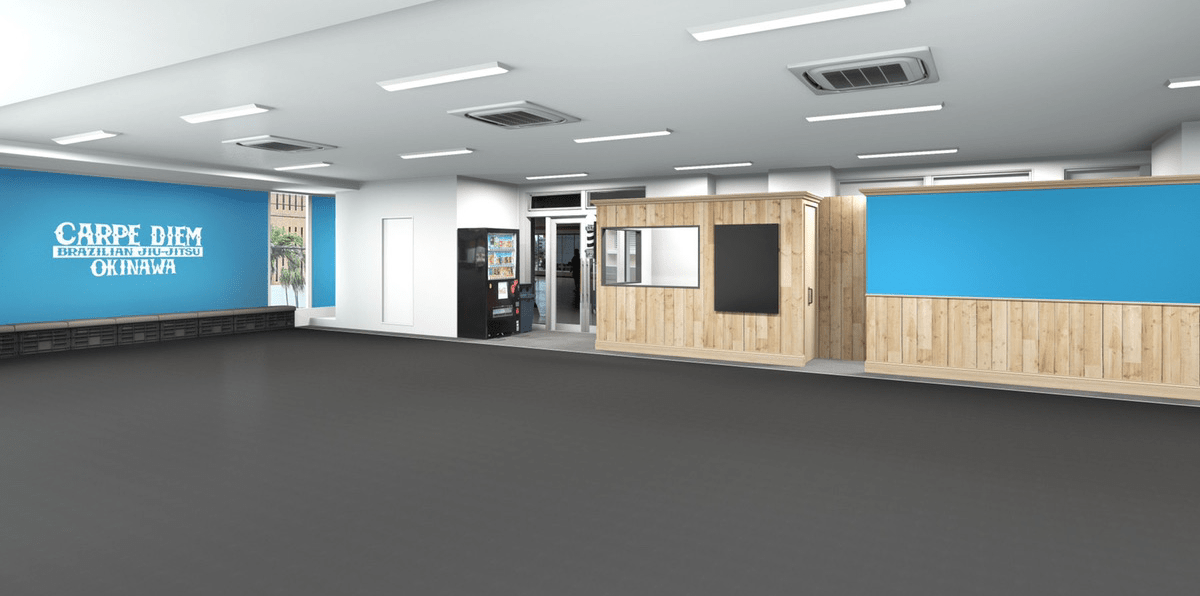 Over 2130 square feet!
The largest gym in Okinawa.
CARPEDIEM Okinawa is the best gym with stylish and latest facilities, like our members said "It's so cool from the outside, it makes me feel good just to come here."
The mat is about twice twice as large as a standard gym, so you can have a Jiu-Jitsu and kickboxing class at the same time without stress.
Weight training equipment is available free of charge to all members. Separate men's and women's restrooms, changing rooms, and shower facilities are available. There are 8 covered parking lots.
We aim to make a gym where everyone can spend their time comfortably.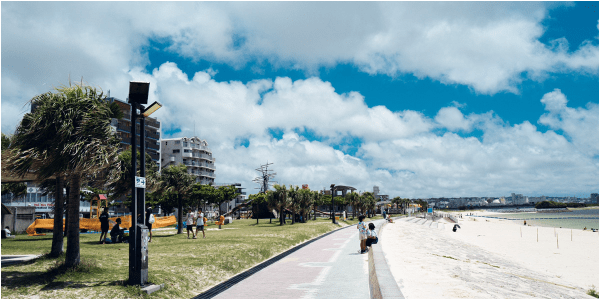 Great locations
CARPEDIEM Okinawa is located in Chatan, one of the best resort areas in Okinawa.
It takes 1-minute walk to Araha Beach and a 5-minute drive to Mihama American Village.
You can enjoy shopping and relaxing at the beach after training.
Characteristics of CARPEDIEM Okinawa
No hard sparling.
You can enjoy safe sparling.
We have a fun and safe women's class.
There is a class that starts at 17:30!
You can come after work.
Top 3 reasons why people choose the CARPEDIEM Okinawa
01Many Beginners/Women members

I decided to join because there are many women enjoying in trial lesson. (35-year-old/ Female)

I didn't have much experience in sports, but it's fun to attend the class because there are many beginners and great instructors. (32-year-old/ Female).

02Friendly Atmosphere

All members and instructors are very friendly. (38 years old/ Male)

It's the first time I've made a lot of friends at the gym. I'm happy to meet new friends! (40-year-old/ Female)

03The Best Kids Class

Class starts with a bow and ends with a bow. To have handshakes with everyone. My kids learn the politeness of martial arts. (By parents of 6-year-old kids)

Not only Jiu-Jitsu but also tug-of-war and balance balls are used, so even children can enjoy the class without getting bored. (By Parents of 10-year-old kids)
Private Lesson is available!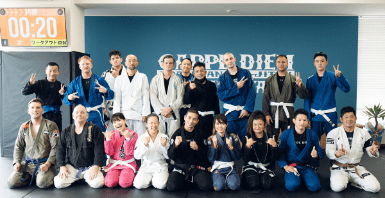 Why don't you train at your own pace?
You can take Jiu-jitsu private lesson by black belt instructor.
The quickest way to improving your skills! We will support you according to your needs.
A black belt instructor will teach you one-on-one.
You can ask what you want to know, from specific body usage to tips on techniques.
You can also learn detailed techniques that cannot be learned in general classes.
Group lessons for 2 to 4 people are also available! Please feel free to ask.
You can check our class on Instagram.
If you have interested in CARPEDIEM Okinawa, please follow now!
Instagram
Analysis data of CARPEDIEM Okinawa members
Percentage of Jiu-Jitsu experience people and beginners

The average age of members


the male/female ratio for Jiu-Jitsu class

the male/female ratio for kickboxing class

Top 3 reasons to join

Average number of lessons attended in a week

CARPEDIEM Okinawa
| | |
| --- | --- |
| Address | 2F 2-14-4 Chatan, Chatan-cho, Nakagami-gun, Okinawa, Japan 9040116 |
| Phone Number | 050-3187-7867 |
| Business hour | 0900-2100 |
| Closed | Sunday and Holiday |